Logitech G920 Xbox Driving Force Racing Wheel for Xbox One and PC (941-000121)
Feel every tire slip, brake fade, and weight shift as you careen around curves, speed down straight-aways and move through traffic thanks to the precise dual-motor force feedback
Experience smooth and quiet steering action with the helical gearing that helps reduce unwanted noise and vibration, and antibacklash that ensures tight steering and pedal control
Navigate your game menus and control the on-screen action with the incorporated D-pad and console buttons right where you need them
Execute smooth, precise gear shifting on hairpin turns and straight-aways with compatible semi-automatic paddle shifters **SHIFTERS SOLD SEPARATELY**
Enjoy a realistic driving experience with the separate floor pedal unit that delivers responsive, accurate acceleration, braking and gear-shifting feel, while the rubber feet and retractable carpet grip help maintain stability during gameplay. **SHIFTER SOLD SEPARATELY**
Crank the wheel up to 900° for hand-over-hand turning, and ensure your in-game wheels are pointing the right way at a glance with the help of the steering wheel stripe
Constructed with solid steel ball bearings, stainless steel paddle shifters and pedals and hand-stitched leather for a stylish look and rugged durability. **SHIFTER SOLD SEPARATELY**
Compatible with Xbox One and select Windows PCs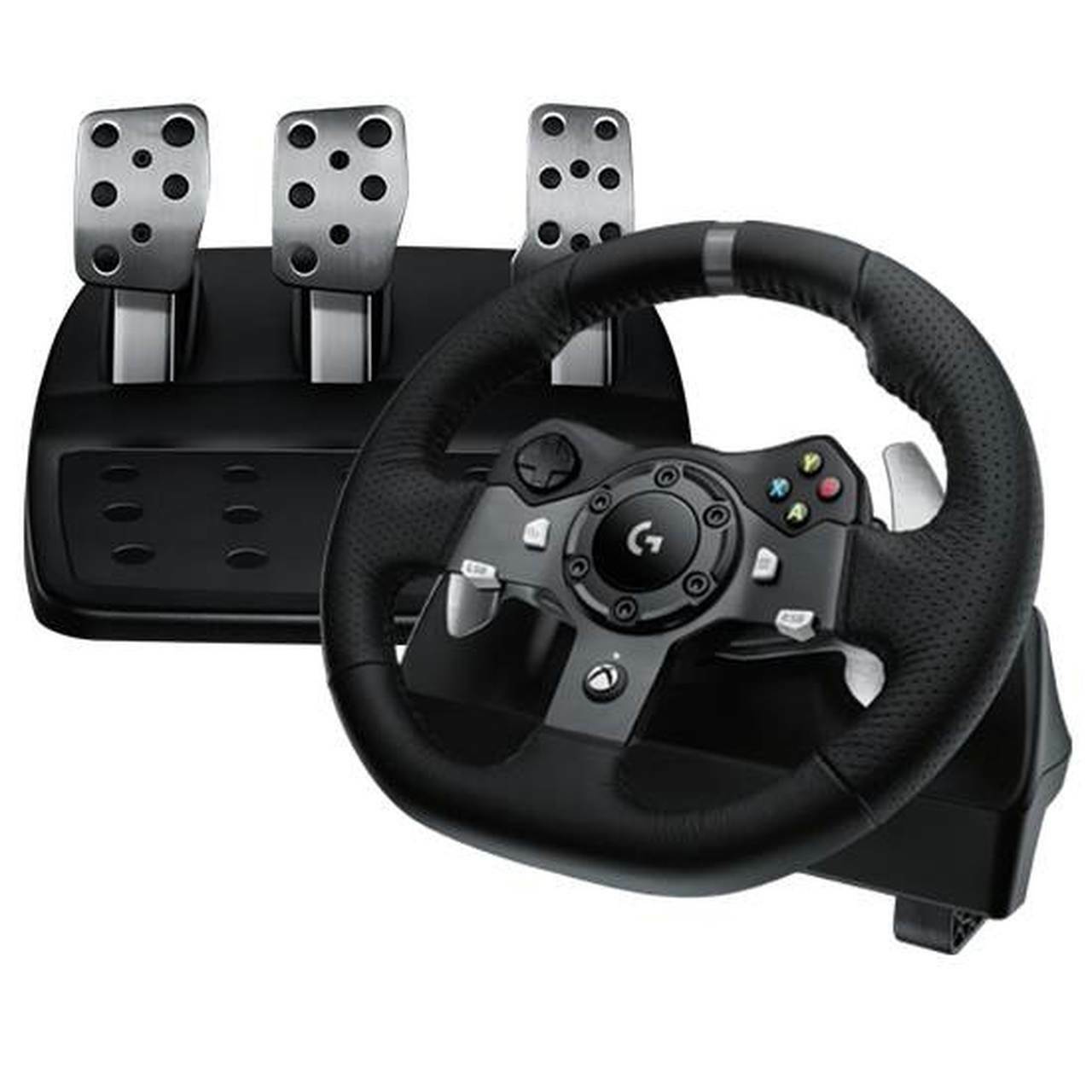 Enjoy a realistic driving experience with the separate floor pedal unit that delivers responsive, accurate acceleration, braking, and gear-shifting feel.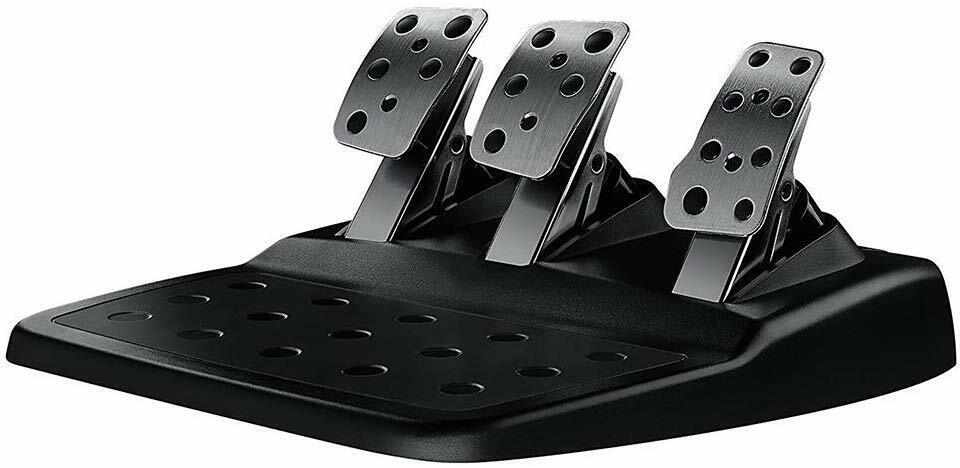 Driving Force lets you comfortably accelerate, brake, and change gears with the feel of an actual car.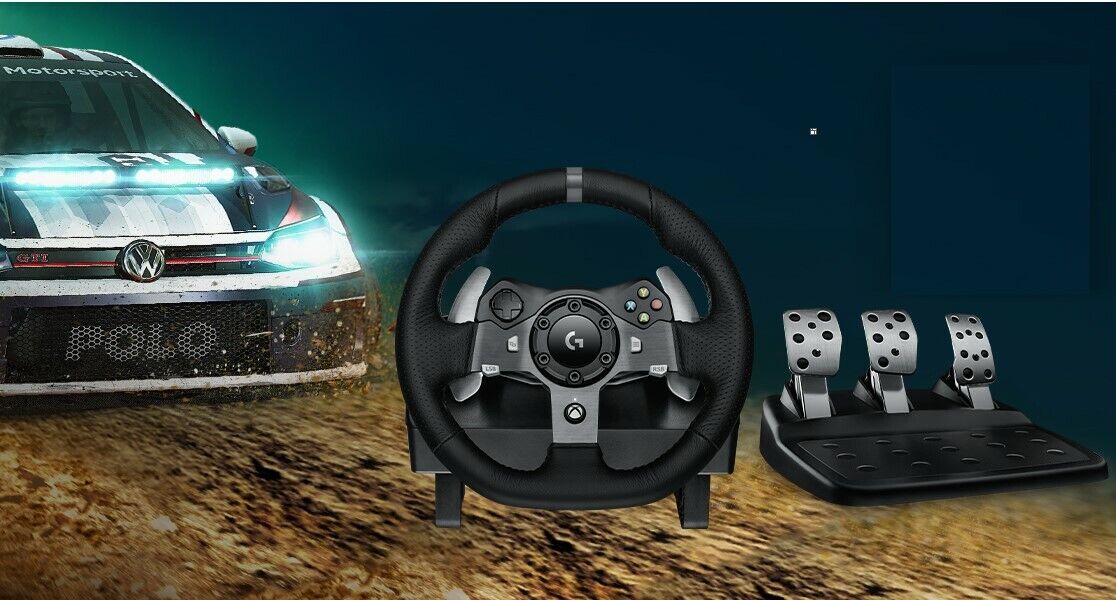 Full Throttle, Full Control Relentlessly engineered for the perfect driving experience.
Logitech G920 Xbox Driving Force Racing Wheel for Xbox One and PC (941-000121) Features:
LOGITECH G920 DRIVING FORCE RACING WHEEL & PEDALS FOR X-BOX ONE + PC: Full Throttle, Full Control Relentlessly engineered for the perfect driving experience, Driving Force by Logitech G takes the latest racing games to the highest level. You simply haven?t experienced racing simulation if you haven?t grabbed your supercar by the wheel.
Dual-Motor Force Feedback: Feel your tires on every turn and type of terrain. Sense under and oversteer drifting with precision. Feel every weight shift and tire slip, and the road conditions that caused them. Powerful dual-motor force feedback realistically simulates force effects so you can respond immediately and accurately.
Motor Sport Construction: Driving Force handles the stress of racing action and is built for long-lasting reliability. Solid steel ball bearings are used in the wheel shaft. Stainless steel paddle shifters and pedals feel great under pressure. The wheel is covered in high-quality, hand-stitched leather for a premium sports car feel. Grab your car by the wheel for a more realistic, comfortable and durable racing experience.
Wheel-Mounted Controls: All your controls are where you can reach them. The D-Pad, buttons and paddle shifters are incorporated into the racing wheel. LED indicator lights positioned just above the center of the wheel tell you exactly when to up- or down-shift so you maintain maximum acceleration without taking your eyes off the track. A 24-point selection dial and the +/- buttons on the front of the wheel let you further fine-tune your driving preferences. **SHIFTER SOLD SEPARATELY**
Stay Centered: Easily see if your steering is dialed in using a visual cue within your peripheral vision. The steering wheel stripe is a visual indicator of which direction the wheel is pointing.
Adjustable Floor Pedals: Maintain a more realistic driving body position with the separate floor pedal unit with integrated throttle, brake, and clutch pedals. Driving Force lets you comfortably accelerate, brake and change gears with the feel of an actual car.
Pressure Sensitive: The nonlinear brake pedal mimics the performance of a pressure-sensitive brake system for a more responsive, accurate braking feel. For even finer control, reposition the pedal faces to make heel-toe maneuvers easier to perform.
Steady, Sturdy Base: Driving Force pedal base features rubber feet for hard surfaces and a patented retractable carpet grip system help your pedals stay right where you put them.
SPECIFICATIONS:
The definitive sim racing wheel for Xbox One: Realistic steering and pedal action for the latest racing titles
Built to last: Durable solid steel ball bearings, stainless steel pedals and hand stitched leather wheel grip
System requirements: Xbox one, powered USB port or Windows 10, 8.1, Windows 8 or Windows 7, Mac OS 10.10+
Responsive floor pedal unit: Accelerate, brake and change gears with the feel of an actual car
Wheel Rotation : 900 degrees lock to lock; If connected to a pc, make sure that you?ve installed logitech gaming software 8.70 or later
Part number : 841 000053; Item model number : 941 000121
Pedals : Height: 167 millimeter (6.57 inches), Width: 428.5 millimeter (16.87 inches), Depth: 311 millimeter(12.24 inches) Wheel : Height: 270 millimeter (10.63 inches), Width: 260 millimeter (10.24 inches), Depth: 278 millimeter (10.94 inches)
Fast shipping
Free shipping on all orders in the USA.
AMAZING SUPPORT
Our amazing support team is here to help.
30 DAYS RETURN
Simply return it within 30 days for an exchange.
100% SECURE PAYMENT
We ensure secure payment and accept Stripe, Visa, Mastercard, Amex & Paypal.